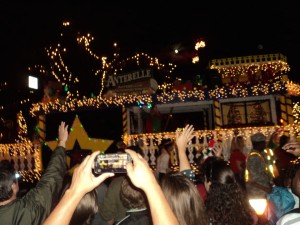 I was really happy that we made it to the local winter festival this year. I thought we were going to miss it, but we got there just in time to see the parade's beautiful, celebratory floats.
I knew that my mind had to let go of the stress that had been tagging along with this holiday season. It was a struggle at first, but I was able to focus on the merry atmosphere downtown rather than thinking about all of the card-writing, shopping, and planning that I needed to get done by the end of December.
We walked through the annual Christmas "village," which was filled with lights, tinsel, and giant candy canes. It even had animatronic scenes showing elves making toys, Santa's helpers making candy, and reindeer nodding as we passed by.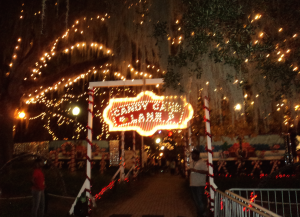 When I was in college (over a decade ago), I attended my first winter festival here. To be more specific, one of my first paid gigs in college involved dressing up as an elf and waving to children at the winter festival for $5 an hour.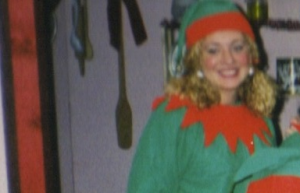 Back then, we didn't have the cool animatronics, so my friends and I made up little skits. We had a small "kitchen," and we pretended to be elves who were baking cookies. To make it fun, we periodically ran over to the "stove," waved our hands in the air frantically, and yelled, "The cookies are burning!" At the time, I was a theatre major. Some of the other elves were, too, and we probably had as much fun as the kids who were laughing at our ridiculous antics.
Ah, to be a kid–even a college kid–again during the holidays! At least I'm able to relive some of those carefree moments once a year, on the night that I visit the winter festival.