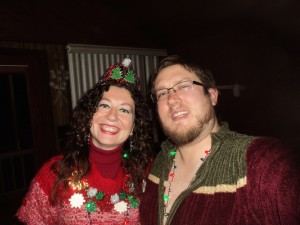 This year, we went to our first Ugly Christmas Sweater Party. For years, I had smiled as I looked at other people's pictures of such parties. It looked like they had so much fun posing in tacky sweaters from the 80s.
The process of making the sweaters was just as enjoyable as the party itself. First, we went to Goodwill, hoping to find over-the-top, outdated Christmas sweaters. Unfortunately, there weren't many choices. (We live in a college town, and I can only imagine how many Ugly Christmas Sweater Parties were going on around town. We must have gotten there a little too late.)
So we decided to make our own. We found ugly-enough sweaters in Christmas colors. Then we went to a Jo-Ann fabric store and bought a variety of foam shapes, stickers, sparkly fuzz balls, and sequined bows. It was a blast gluing those things onto my sweater and tiara, and we completed our outfits with flashing necklaces.
Tony actually won the prize for ugliest Christmas sweater. In the second picture, he's wearing his awesome medal.