Happy St. Patrick's Day! May you feel joyful and blessed today!
As an Irishwoman (well, a one-quarter Irishwoman), St. Patrick's Day is one of my favorite holidays. There's something about it that puts a smile on my face and a jolly Irish tune in my heart.
On Saturday, Tony and I went to the local St. Patrick's Festival. I was worried that there would be a thunderstorm, but thankfully, the sun was shining with true Irish spirit. The plaza was filled with vendors, balloons, happy children, and plenty of green.
It was a really hot day, so we decided to wait in line to buy snow cones. I tried the "New Orleans King Cake" flavor, which was delicious and tasted like the real thing. After cooling off, I decided that it was worth the twenty minute wait.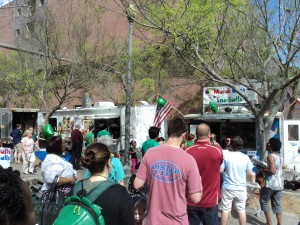 Then we listened to traditional Celtic music, which included a live band with a banjo, a flute, a hammered dulcimer, and a fiddle. My favorite moment was probably when the bagpipe band marched in front of the stage.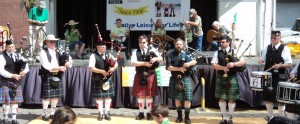 Do you have a favorite St. Patrick's Day tradition? Whether or not you celebrate the holiday, here's an Irish blessing to take with you today:
May you always have. . .
Walls for the winds
A roof for the rain
Tea beside the fire
Laughter to cheer you
Those you love near you
And all your heart might desire.