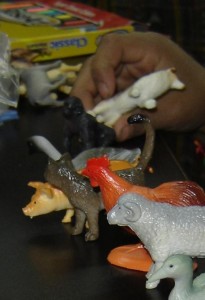 There was one adorable and very energetic three-year-old girl in the Guatemalan orphanage. As she ran over to me, her pigtails bounced and her brown eyes sparkled.
In the last post, I wrote about my volunteering efforts with the toddlers in this Guatemalan orphanage. While those toddlers were napping, I would usually sit down with the three-year-old girl and open up my multi-colored cloth bag, which I had bought from a local vendor. I had filled it with a variety of supplies, such as: paper, glue, crayons, markers, watercolors, puppets, dolls, a tiny house, furniture, toys for "cooking," cars, and animals. While I sat down with the little girl, we would talk, and I would do art therapy and play therapy with her. (And she didn't hesitate to tell me which toys and activities she liked better than others.) I tried to work on small goals with her, such as: expressing feelings in a healthy way, following directions, improving self-esteem, and learning appropriate boundaries.
Within a few months, she had moved to the United States to live with an adoptive family, and I often wished that I could find out how she had settled in. For me, one of the hardest parts about working with children–and some adults–is spending months or even years working with them, caring about their well being, continuously checking in with them, all the while realizing that, one day, I'll never hear from them again.
The orphanage gradually began to take in more older children, and I stayed longer in the afternoons so that I could work with the six school-aged children after they got back from classes. I learned that some of them had been physically and emotionally abused by their parents before they came to the orphanage. And most of the kids had behavioral and/or adjustment issues. While I was there, I would take the kids aside, one-by-one, and talk with them. Usually, we would sit on the porch, and I would incorporate art therapy and play therapy into the session. Overall, I tried to help them with their behavioral, emotional, adjustment, family, trauma, and self-esteem issues.
I hoped that I was making a difference, even if the only thing that I was really accomplishing was showing the kids that I cared about them. Sometimes, all I can do as a therapist is hope that the children have benefited from the undivided attention and the opportunity to express their feelings. Usually, I'll never find out what happens to them. In this rare instance, however, I was able to see the children that I had worked with–after I went back to Guatemala for a visit.