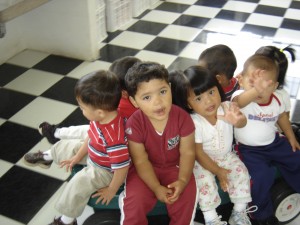 As I prepared to move to Guatemala in 2009, I wondered if I was making the right decision.
What would I do over there? Even though I had been raised as a missionary kid and I had gone on many short-term trips as a volunteer, this was my first time moving to a Third World country. I had carefully saved my money for over a year, and my plan was to fly down, connect with a local organization, and start "helping people." But what would that look like?
Right after I moved to Guatemala, I began interacting with other volunteers, and one of the first opportunities that I found was to volunteer in an orphanage. Since Guatemala had been a major issuer of international adoptions (for about a decade), orphanages like this one had been formed in order to assist Americans who wanted to adopt Guatemalan children.
The orphanage was in another town, so to get there, I had to walk to a bus station, hop on a "chicken bus," then hike uphill for about twenty minutes. Before a chicken bus makes it down to Central America, it starts out as a school bus in the United States. (And, in case you were wondering, it's not unusual to see people carrying their chickens on board.) Most of the buses are repainted with bright colors, and I used to pay about forty cents for the twenty minute ride to the orphanage. Since these chicken buses are usually very crowded, I often found myself crammed into a seat with two other people.
The first time that I walked onto the grounds of the orphanage, I was astonished by its beautiful white building and and its gorgeous view overlooking Lake Atitlan.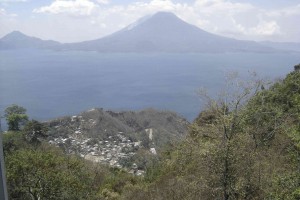 I discovered that there were about fifteen kids inside the orphanage, and most of them were toddlers.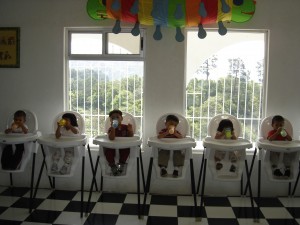 Even though it took a while to get to the orphanage, I began looking forward to my weekly trips to see these little ones. Most of the toddlers were just learning to walk, and they couldn't yet hold the spoons to feed themselves. (They were able to hold their own sippy cups, which you can see in the photo above). I followed the women who worked there from room to room, helping them with their caregiving tasks: putting the kids down for their naps, waking them up from their naps, changing them, bringing them outside, playing little games, helping them practice motor skills, and feeding them hot soup and cereal.
It wasn't unusual to have three toddlers trying to sit in my lap at once, and I got really attached to some of these little ones. I enjoyed spending time with them, and I watched them go through several phases of development. Right before I moved back to the States in August of 2010, most of the toddlers had transitioned from the highchairs to a kids' table, where they were feeding themselves.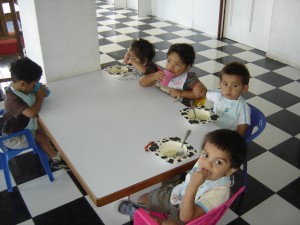 To read about the art therapy and play therapy that I did with the older kids at the orphanage, you can go to my next blog post.