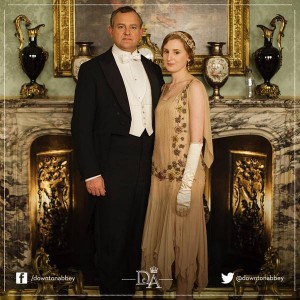 I can't wait for the next season of Downton Abbey. It's not only one of the best shows that I'm currently watching; it's one of my favorite shows ever. (Season 5, or more accurately, "Series 5" is returning to television in the UK on September 21.)
The writing, directing, and acting in Downton Abbey are phenomenal. The show illuminates human nature among the rich and the poor, over the course of a decade. People fall in love, people make difficult decisions. War changes their lives. The rich realize that they have to evolve if they want to survive, and the poor are faced with the choice of whether or not to take advantage of those who have more money. Meanwhile, some ignore the rules of the social class system, and they reach out to each other as human beings.
Now I have another reason to love Downton Abbey. The show got some criticism after a promo shot (see the photo above) was released for the upcoming season. (Hint: If you look closely, there's a modern object on the mantle that a crew member might have been drinking from.)
In response, the cast released the photo below. (You can read more about it here.) I love that they were able to make light of the incident and use it to further the cause of WaterAid UK, which offers clean water to impoverished people around the world. Way to go, Downton. I plan on making a donation, and I can't wait for the next episode!