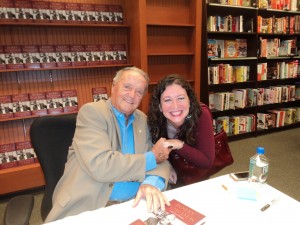 As I was walking through Barnes and Noble last Friday, I noticed that a book signing was going on. Bobby Bowden, the former football coach of Florida State University, was signing copies of his new book and posing for pictures.
I wouldn't exactly call myself "a football person," but I went to Florida State for six years. While I was there, I dressed up in the colors garnet and gold many times for our football team, the Seminoles.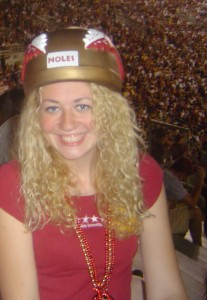 Bowden led the Seminoles to a national victory in 1999, the year before I got to Florida State, and he's won more Division I football games than any other coach in history (377 wins).
So, after standing around in Barnes and Noble for a few minutes, I decided to go ahead and pay $24.99 to meet Bobby Bowden.
He was very nice.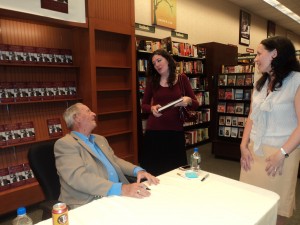 The woman who stood in front of me in line had a daughter around seven years old. She told the little girl, "Make sure you call him Mr. Bowden."
As the little girl walked up to the table, she said, "Hello, Mr. Bowden!"
"Did you just call me Mr. Bowden? Aren't you sweet!" he responded, giving her a grandfatherly hug.
Whenever I'm about to meet a famous person, or even a pseudo-famous person, I feel butterflies in my stomach. My mind shuffles through several versions of what to say first. I want the person to feel like I respect him or her (even if I'm not a huge fan). At the same time, I want the interaction to feel natural.
I don't remember exactly what I said when it was my turn to meet Bobby Bowden, but I think it was kind of rushed, like I was trying to fit an explanation into a greeting. I said something like, "Hi, Mr. Bowden, I'm Rachel Mock. My husband and I are Seminoles."
Usually after I say the first few words to a famous person, I forget that I'm talking to a celebrity, and I start to feel like I'm having a normal conversation with someone.
"Nice to see you, Honey," Bowden said to me, extending his hand. He had very pale blue eyes, which I hadn't noticed when I saw him in pictures or on television. He maintained a kind look on his face, like a friendly grandfather who wanted the people around him to know how much he cared about them. After reading part of his book, The Wisdom of Faith, I recognized more kindness in his approach to others.
A woman who was helping with the event took several photos of us while we talked.
I told him that I went to Florida State for six years.
"Which years were you there?" He asked me.
I explained that I had been there from 2000-2004; then I went back for grad school from 2005-2007.
"I was there during those years," he remarked.
"Yes, you were!" I responded, letting him know that I had been to quite a few of his games.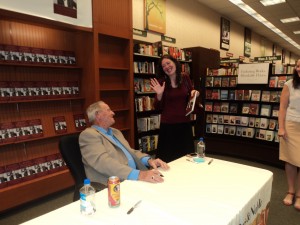 Soon after that, it was time for the next person to walk up to the table. "Nice to see you, Honey," Bowden said again with a friendly smile.
"It was nice to meet you," I smiled back, waving as I walked away.