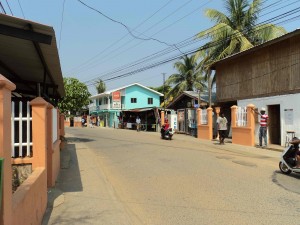 Our first cruise stop was in Roatan, a beautiful island in Honduras. We planned to walk around the town and visit the beach, but we didn't know that the most interesting moments of the day would involve meeting the locals.
Right after we got off the boat, a sixteen-year-old boy started following us around. He wasn't vague about his intentions, either. "I'm just trying to make a hustle," he told us several times. Basically, he wanted to follow us around, point out some interesting facts about the town, and earn a nice tip.
We usually try to avoid these aggressive "tour guides." It's really uncomfortable when a stranger in a foreign country won't stop following you around. And I get nervous, because we've encountered people who yelled at us after we didn't pay them what they wanted at the end of their "tours."
On this particular day in Roatan, however, Tony and I felt bad about turning away the friendly young man. He had approached us with a smile and a helpful attitude, and at least he had been honest about his intentions.
Then he told us his story (which may or may not have been true). His father had died several years ago, and now he had to provide for the family, which included his mother, sisters, girlfriend, and two-year-old child. (Yes, he had fathered a baby when he was fourteen.) He went to high school part of the time, but when the cruise ships stopped here, he was always outside, trying to make his "hustle." His English was really good, so I think he made a pretty good living. He also hinted at offering us his full tourist package, which included some drugs, but we opted out of that offer.
We did allow him to take us to a cafe where we could buy some cold drinks to go, because it was a very hot day in the Caribbean.
Then we walked past the straw market, which we decided to visit later. We also saw the churches, his school, and the internet cafe where he played video games with his friends. (At least he got to be a teenager some of the time.)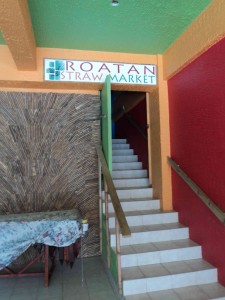 I was curious-but-uncomfortable walking into pricey gift shops with our tour guide. I didn't want to buy anything there, not only because I'm cheap but also because he might expect a bigger tip.
Then we walked into a restaurant to get some lunch. I was happy that Tony gave our guide a tip before we ordered, because it was awkward not knowing whether he expected us to buy him lunch or to let him watch us eat. He seemed happy with the $20 we gave him, and it was early enough in the day for him to go make another hustle.
Then we took a cab to one of the local tourist beaches. After walking along the water, we discovered a peaceful cove called Half Moon Bay. There were several plastic chairs that no one was using. So we grabbed two of them and found a comfortable spot under a shade of trees.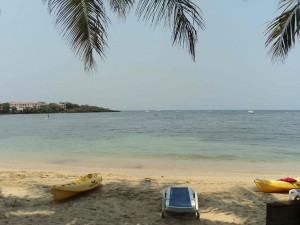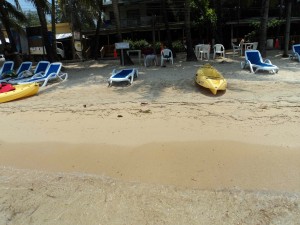 I enjoyed digging my toes into the sand and wading into the cool, refreshing water.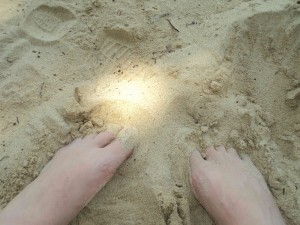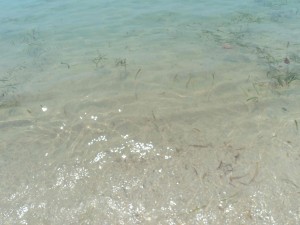 This beautiful beach had a lot to offer: live music, paddleboarding, kayaking, glass bottom boats, even submarine rides.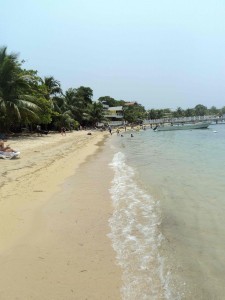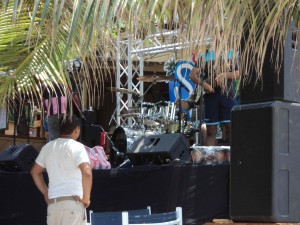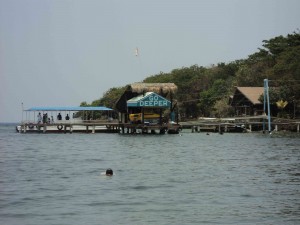 We were on a budget, so we didn't do the extra activities. But it was wonderful enough to walk along the water, splash in it a little, and relax in our shaded spot. I slowly let go of my worries as I drank in the view of the Caribbean.
Here's a video of the beach.
There was one awkward moment when a woman approached us. She was one of the many ladies offering beach massages to tourists. She came up to us, and when I opted out of the massage, she offered a "free demo." I didn't mind the two-minute massage, but Tony didn't want it at all. If I could have gotten it on camera, you would have seen him grimacing and protesting as the woman poured oil onto his back and neck and rubbed it all the way into his hair.
After our time at the beach, we went back to town and checked out the straw market. There were dozens of booths selling a variety of clothing, purses, jewelry, straw hats, wooden objects, dolls, clay bowls, and other local handicrafts.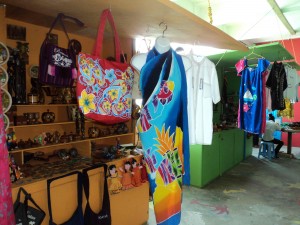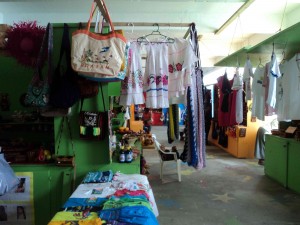 I found a nice wooden magnet with a painting of the beach on it–to remember our day in Roatan. I try to find a magnet every time that I go to a new place, particularly a new country. It's a small, inexpensive item that travels well and that I can add to my collection of memories on the refrigerator.
As we went back toward the ship, we passed by the cruise "mall," which was basically a series of shops that had special arrangements with the cruise port. We've seen one of these cruise "malls" at just about every cruise port. They're lovely, and you can find a variety of unique jewelry there, but they're not for people on a budget.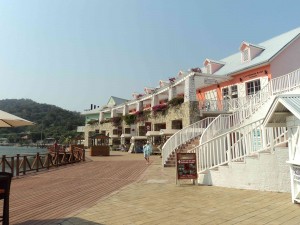 On the way back to the ship, we saw a line of people, greeting us with smiles. First, we were serenaded by an energetic group of local musicians. Then we walked past cruise staff who handed out fresh towels and cups of ice water. And as we went up the ramp, other cruise staff insisted on spraying our hands with bottles of hand sanitizer as they told us, "Washy, washy!"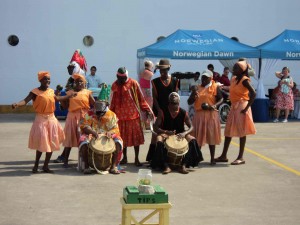 As evening approached, we enjoyed Roatan from inside the ship, sitting at a cafe and looking down at the port. The clear water mesmerized me, and I realized that I was, indeed, far away from daily life, collecting these beautiful moments to take home with me.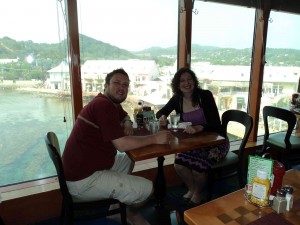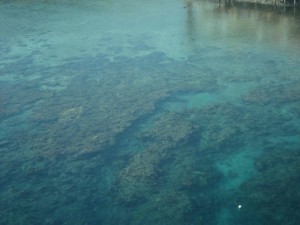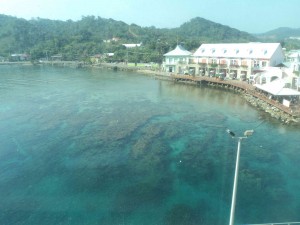 To find out more about our cruising adventures, you can read part one.