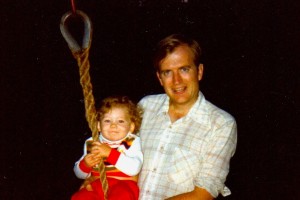 I'm grateful for my father, who taught me to follow my dreams.
I know that I complained as a child, following him around from country to country as he did mission work in Europe. But as I watched him achieving his goals–leading teams of people into mission work in Communist countries, starting a large church in Russia in 1991, and inspiring people all over the world–I realized that significant goals could be attained. I wouldn't be following all of my dreams if it hadn't been for his courage, dedication, and guidance.
So thanks, Dad! Here's a poem in honor of Father's Day.
Life Lessons
By Joanna Fuchs
You may have thought I didn't see,
Or that I hadn't heard,
Life lessons that you taught to me,
But I got every word.
Perhaps you thought I missed it all,
And that we'd grow apart,
But Dad, I picked up everything,
It's written on my heart.
Without you, Dad, I wouldn't be
The person I am today;
You built a strong foundation
No one can take away.
I've grown up with your values,
And I'm very glad I did;
So here's to you, dear father,
From your forever grateful kid.