I was so excited to cross the border into Canada. I hadn't been there since I was fourteen, and I'd built up this trip so much in my mind that I'd started calling it our "2017 international adventure"–even though all we were doing was crossing the border and staying in Canada for one night. At home, we'd recently been watching Netflix shows filled with beautiful Canadian scenery–shows such as Anne with an E. Two of my co-workers had been to Windsor, Canada, and they both commented on how beautiful it was.
And it was beautiful. My 5 favorite things about our trip to Windsor, Canada, included:
1. Strolling along the Detroit River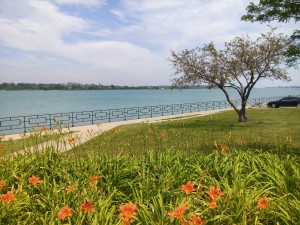 We enjoyed a gorgeous afternoon stroll along the Detroit River. This river separates Windsor from Detroit, Michigan, and we could see the skyline of Downtown Detroit across the water. There are boardwalks and parks that stretch for miles along this river, and it's definitely a must-do if you ever visit Windsor.
2. Eating Fresh, Local Food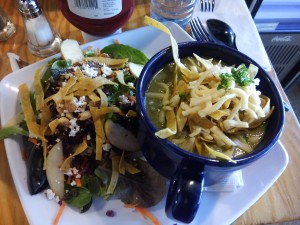 We had a delicious lunch at a local restaurant called "The Carvery." I love broccoli cheese soup, and my favorite part about the salad was the "hot bacon salad dressing." It was a physically warm, tangy dressing, and I liked the contrast of the warm dressing on a cold salad. The man working there was very friendly, and he told us about the history and geography of the area. Apparently, Windsor is the southernmost city in Canada, and it belongs to the only area in Canada that is actually south of the United States. About an hour's drive from Windsor, there's a park where you can walk along the southernmost tip of the country.
3. Smelling Beautiful Flowers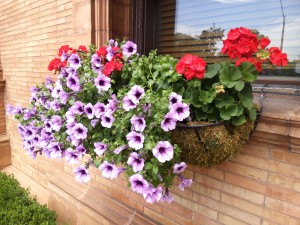 There were flowers blooming just about everywhere. I loved it. These particular flowers were outside of the Canadian Club building. I learned that this was the building where American Gangsters used to pick up whiskey during the Prohibition Era. They would drive across the frozen river in winter, load up their vehicles, then go back to their American hometowns to sell the illegal booze. The Canadian Club building used to be a museum for Prohibition Era history, but now they've closed it to the public.
4. Canada's 150th Birthday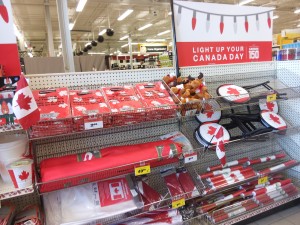 Canada was about to have a big birthday. The Canadian colonies were united into one dominion on July 1, 1867–almost 100 years after the American states joined to became one nation. We were in Windsor right before July 1, which they celebrate as Canada Day. And this wasn't just any Canada Day. This was the 150th Canada Day. It would have been especially fun being there on July 1–to watch the parades and to sing along to the Canadian national anthem (or, at least, the part of it that I knew).
O Canada!
Our home and native land!
True patriot love in all thy sons command.
With glowing hearts we see thee rise,
The True North strong and free!
From far and wide,
O Canada, we stand on guard for thee.
God keep our land glorious and free!
O Canada, we stand on guard for thee.
O Canada, we stand on guard for thee.
I enjoyed being in the country as Canada prepared for its "Sesquicentennial." There were so many Canada-themed items for sale, and we brought home more than a few of them as our souvenirs.
5. Tim Hortons Coffee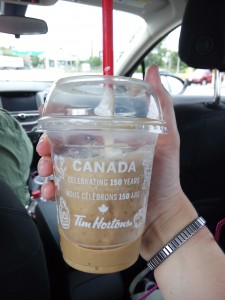 Canada has its own version of Starbucks. One of Canada's legendary hockey players, Tim Horton, had started a chain of coffee shops before he died at age 44. Now there are close to 5,000 Tim Hortons coffee shops around Canada. On the way back to the border, I ran inside a Tim Hortons to try some of their famous coffee. My American debit card didn't work there, so the man behind the counter gave me my "Iced Capp" for free. I was, of course, supposed to tell my non-Canadian friends about how wonderful the coffee was. So here I am, telling you that the coffee was wonderful.
And, O Canada, it was wonderful to visit your country.