Do adventures really have to stop after you have a baby? Not in our family! I've been determined to continue traveling and having new experiences, even as a mom.
Of course, going on adventures with a toddler can require a little extra planning and creativity. Here are 3 weekend adventures that we had fun taking our daughter on:
Adventure #1: Picnic by the Beach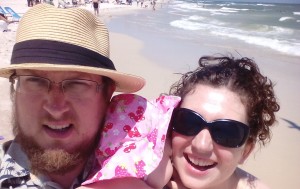 If you enjoy the water, consider going to the beach. We had a lovely stroll along the coastline, and I was able to get some much-needed relaxation that day. I brought a small bucket, which was great for collecting shells, and my daughter still gets excited when she sees one of the shells that we brought back with us.
We also brought a picnic lunch, which we ate at a picnic table in a pavilion overlooking the beach. (It was less messy than eating it on the beach, and it was easier to clean up after we were done.)
If you don't have a beach nearby, you could consider spending the day at a nature preserve, an outdoor museum, or a park. Those can be great places to bring a picnic lunch.
Adventure #2: Going to the Movies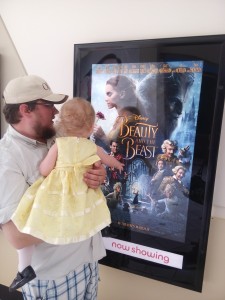 I was actually a little surprised that taking our toddler to a movie theater went so smoothly. Beauty and the Beast had a lot of songs, so that helped to hold her attention. We also had plenty of crackers and fruit snacks on hand to give her when she got antsy. I'm really glad that we bought our tickets online and picked back-row seats. That way, if we needed to stand up with her, we wouldn't be standing in front of anyone.
I wanted to dress my little girl up in a yellow "Belle" dress (to match the main character), and it was convenient that we already owned one. If we hadn't, I probably would have bought a dress like this one.

Adventure #3: Going to See Animals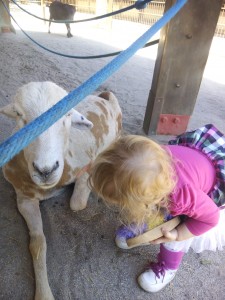 We took our little girl to a petting zoo, and she had a blast meeting the sheep and goats. Her favorite part was that she got to brush their fur.
Another place where we took her to see animals was the county fair. Next time, we'll probably buy one of the small packages of food so that she can feed the animals.
There are other great places to go see animals also: wildlife preserves, farms, zoos, or even a friend's house where there are pets.
I'd love to hear any tips that you have for going on family day trips. And I hope that our 3 adventures can give you some inspiration for planning your own weekend fun.