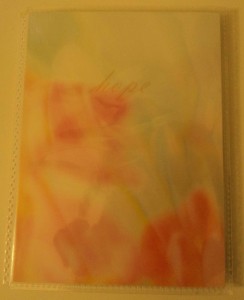 I rarely commit to new projects, because my free time is limited, but last week I was inspired to start an art journal. I work at a treatment center (as a mental health counselor and an art therapist), and one of the activities that I've encouraged my clients to do is to keep an art journal. It's a way to express oneself, gain self-awareness, process feelings, and develop creativity.
An art journal is usually a journal where people combine words and art. Some people who do not consider themselves "artistic" have been surprised by how much they love art journaling. It's not just a place to draw or paint; it's a place where someone could collage, copy quotes, add personal photos, doodle, or glue objects found in nature, such as leaves or flowers.
Since I'm an art therapist, I'm kind of surprised that I've never kept an art journal. The truth is, I rarely take the time to do my own art.
So I've decided to start small. I know that if I bought a large sketchbook, I would never invest the time to fill a page. So I bought a small photo album, and for pages, I'm planning to cut paper to fit into the sleeves.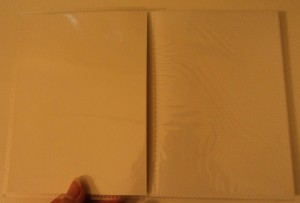 The word on the cover of the book is "hope." So I decided to create this art journal with a theme of hope. I'd like to spend more time focusing on the positive things in my life–reflecting on what matters. I think that hope has many layers, and I'd like to uncover a deeper level. If you have any ideas for the pages in my art journal, I'd love your feedback!