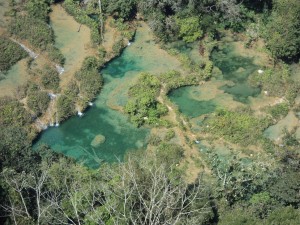 One of my favorite spots in the world is a natural wonder called Semuc Champey. This limestone land bridge, which extends about 1,000 feet over a gushing river, is found near Lanquin, Guatemala. Formed into that limestone, there are gentle waterfalls, small caves, and turquoise pools where people can enjoy a leisurely swim, surrounded by tropical paradise.
When we bought our plane tickets, it had been over two years since we had lived in Guatemala, and Tony and I were excited to go back. We had been volunteers while we lived there, so we hadn't had the money to travel to grand tourist destinations like Semuc Champey. But during our trip back to Guatemala this February, we made it a priority to go.
The trip turned into more of an adventure than we had anticipated. As we booked our transportation and hotel with a Guatemalan tourist agency, the sweet, twenty-something woman informed us that we would also be getting a free "tour."(More on that later.)
To get to our hostel, we took an eight-hour shuttle journey followed by a bumpy pickup truck ride down a dirt road. (On those pickup rides, you do your best to find whatever you can to hold onto–the bar down the middle or the side of the truck–as you stand in the back with up to a dozen people.) We checked into the small cabin below, where there was no internet, hot water, or AC. It wouldn't have mattered at night, anyway, since the hostel shut off all electricity after 9 pm.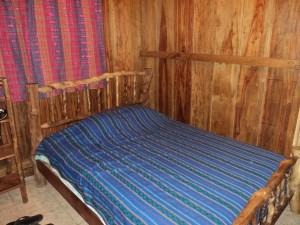 We didn't have a bonfire, but I enjoyed this camping-like experience, and we sat outside with a group of travelers, exchanging adventure stories and swapping advice about what to do or avoid in Central America. (Tony and I had to face the facts that, while we thought of ourselves as travelers, we had barely traveled compared to these other couples who were on their second or third 6-12 month trek around the world!)
We ate all of our meals at the hostel, since we were in the middle of nowhere. I really enjoyed the community meals, games, and hang out moments in the common area. We had the opportunity to get to know people from Spain, Canada, Israel, California, Australia, and Germany.
The next day we went on our free "tour," which was led by a hyper, twenty-something Guatemalan man named Toto, who proudly sported a mullet. I started to get nervous when I saw the sign for the tour, which included a long hike, cliff jumping, and cave exploring. I'm not in the best shape, and that became all too obvious as we tried to keep up with our fellow tour members–who had just finished serving in the Israeli Defense Force. Let's just say, they were very patient with us as we trailed behind them, and we eventually made it up to the top of the very large hill, where we could see this incredible view of Semuc Champey.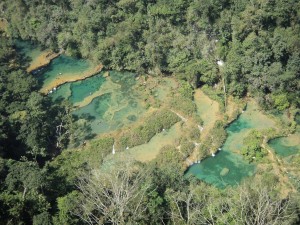 After that, it was off to cliff jumping (which took me a while to warm up to), sliding down waterfalls, and swimming through caves. The scariest moment happened as I tried to swim into a very narrow cave–and my head got stuck against a rock! I couldn't move forward, and my head was already under water, so I began to panic, thinking that I would run out of oxygen. Thankfully, our guide had led this tour many times, so he was able to pull me through that narrow opening!
Then, I got to experience the really enjoyable part of the day . . . leisurely swimming in the limestone pools.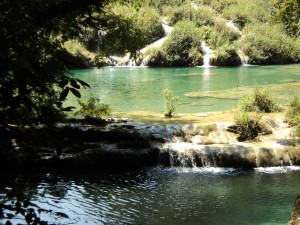 We sat in the water with our new Canadian friends and let the tiny fish nibble away at our dead skin. Our friends informed us that, in Malaysia, people actually paid for that luxury . . . to sit in the water and let the fish give them a pedicure.
I had just watched the movie Life of Pi, and as I sat in these pools, I felt like I was somewhere just as exotic as the enchanted island that Pi discovers after his time at sea.
I would have loved more time at Semuc Champey, but we had to leave in time for our plane ride back to the States. This was a beautiful, once-in-a-lifetime experience, and the video below provides a small glimpse into Semuc Champey's exotic magnificence.