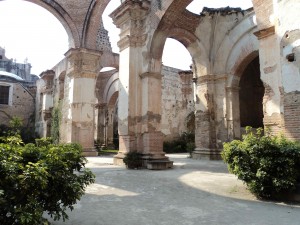 While I was living in Guatemala, I developed a fascination for ruins. They provided a lovely, peaceful hideaway from the psychological chaos that I was normally drowning in: my desire and inability to fix people's destitute situations, the unpredictability of every day, vendors yelling at me or chasing me down the streets, lewd comments from men, the threat of illness and accidents, and story after story of my friends being victimized by bandits. (When I say "bandits," I mean the kind that literally cover their faces and show up at your door or force you out of your car with guns.)
As I entered these ruins, I could finally take a breath. These walls that remained had been standing for centuries, and they provided a barrier from the sadness, the unpredictability, the aggressiveness, the illness, and the danger that lurked outside.
When we went back to Guatemala six months ago, I revisited some of those ruins. My favorite ones were old churches and monasteries. Throughout my spiritual journey, I've looked for ways to increase my faith and to understand the true meaning of Christianity. As I've walked through places that were once dedicated to prayer and spiritual reflection, I've felt inspired to pray and reflect on God as well. During those silent moments, I've been able to focus on positive things in my life and express gratitude for blessings that I've taken for granted.
These buildings have survived centuries of earthquakes, fires, and wars. And, as I walk through them, I'm captivated by the beauty that remains. They are like human beings: they have survived one tragedy after another, and some parts of themselves will never be recovered. But despite the devastation, their inner strength survives. And what remains is an intricately beautiful and inspiring story of redemption.