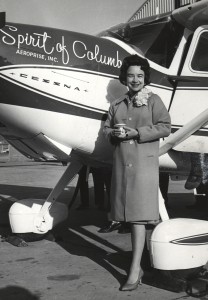 I greatly miss my sweet grandmother-in-law, Jerrie Mock, who passed away on Tuesday. I wish that I could express all that she meant to me.
I met her seven years ago, on a day that she was grieving the loss of her son, my husband's father, who died unexpectedly. I sat across from her in her den, trying to lend as much sympathy as I could, even when all I could do was nod my head slightly and sit with her in silence.
We didn't just talk about tragedy. She wanted to know more about me, so after listening to some of her travel stories, I told her some of mine. We both loved adventure, although I had never accomplished what she had. I had been to quite a few places, but she had been the first woman to fly solo around the world.
From the first day I met her, I felt like she was a kindred spirit.
She inspired me to follow my dreams. She welcomed me into the family before I was even a part of it. I no longer had grandparents, but over time, she became my Grandma. She cooked us lovely Christmas Eve dinners, showed me her family photos and heirlooms, and cared about what was going on in my life. I am forever grateful for her kindness and warmth.
I truly loved her. She was a caring, generous, and courageous woman. She inspired many people to follow their dreams, and I hope that her life will continue to inspire people.
On April 17, 2014, she celebrated the fiftieth anniversary of her historic flight. I was able to write an article, The 50th Anniversary of Jerrie Mock's Flight Around the World, for The Herald of Gadsden County last month. (If you're interested in learning more about her, you could also go to her website jerriemock.com.)
I wish that I could write more about what she meant to me in this blog post, but since I'm in the midst of grieving, I will have to continue writing about her another day. In the meantime, I hope that her story will inspire you to go after your dreams, to take risks and follow your heart, whether that involves helping your community, taking a job in another state, or flying to the other side of the world.
She would want that.