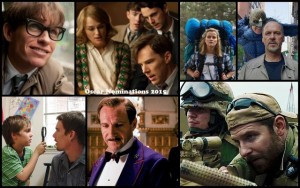 I can't wait to watch tonight's Academy Awards. I'm honestly a little embarrassed to admit that I've seen every movie in the Best Picture, Actor, Supporting Actor, Supporting Actress, and Directing categories. I also saw all of the Best Actress performances except Marion Cotillard's role in the French film that I couldn't get. (Just writing all of that makes me realize that I'm more of a film geek than I even admit to myself.) Here are my picks, predictions, and honorable mentions for this year:
Best Picture:
American Sniper: I want this movie to win Best Picture. It had the right blend of action and sentiment to keep me interested throughout the movie, and I think that it did a great job of showing the effects of war on military families.
Boyhood: I've never seen anything like this. It followed the same actors for twelve years, so you get to watch the children growing up and the adults maturing. The pace was slower than I would have liked, but I smiled as they made references to pop culture–movies, music, news, games–as the years went by.
The Theory of Everything: I'm predicting that this true story about the scientist Stephan Hawking will take home the Oscar. Hawking's theories aside, I'm impressed by what he's been able to achieve with ALS. The movie was beautifully made, with incredible acting, directing, and cinematography.

Best Actor:
Benedict Cumberbatch (The Imitation Game): As usual, he's genius at playing a genius. (If you haven't watched the BBC show Sherlock yet, you should see what he's like in that.)
Bradley Cooper (American Sniper) : He's my pick for Best Actor. This is his third nomination, and he's done a great job in his various roles. In American Sniper, I was completely convinced that he was Chris Kyle, the tough and dedicated U.S. Navy SEAL.
Michael Keaton (Birdman): As an actor in his early sixties who once played Batman, Keaton was the perfect choice for this role, which was about an actor who once played a bird superhero and is now dealing with a fading career.
Steve Carell (Foxcatcher): I'm used to seeing him play "the nice guy," and I usually like him in those roles. In this true story, he plays a man who was able to buy almost everything he wanted–except what he really wanted, which was his mother's approval. As he sets out to invent his own legacy, most people don't realize how disturbed he really is. I'm impressed with how far Carell went to play unlikeable and creepy.
Eddie Redmayne (The Theory of Everything): I think he'll win the Oscar, and he would be my second pick. Redmayne did an amazing job playing Stephan Hawking. The skill it takes to act without speaking, to use one's eyes to communicate needs and emotions is astounding.
Best Actress:
Julianne Moore (Still Alice): I hope she wins, and I think that she will. This is her fifth nomination, and she has yet to win. Moore did an incredible job in this movie, playing a woman who is dealing with early onset Alzheimer's. To see her playing a smart, successful woman who gradually loses her mind–and even her own concept of self–was both heartbreaking and thought-provoking.
Best Supporting Actor:
J.K. Simmons (Whiplash): I think he'll take home the Oscar. While he and Robert Duvall are tied for my pick in this category, Simmons was exceptional in his role as a student's worst nightmare.
Best Supporting Actress:
Patricia Arquette (Boyhood): She's my pick, and I think that she'll win. It's hard to not give someone credit for playing a mom who deals with the ups and downs of life over a period of twelve years (literally, there were twelve years of filming).
Best Directing:
Richard Linklater (Boyhood): He deserves it all the way. After twelve years of directing the same actors in the same roles, he should win based on his dedication.
Who are your favorites?