This weekend, I celebrated the German festival "Oktoberfest" for the first time. Our friends took us to a charming Bavarian-style village called Helen, which is nestled among the Blue Ridge Mountains of Georgia.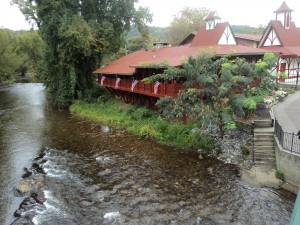 We were hungry after the drive from Atlanta, so we decided to make our first stop at The Troll Tavern. There weren't any trolls hanging around, but it was next to a bridge.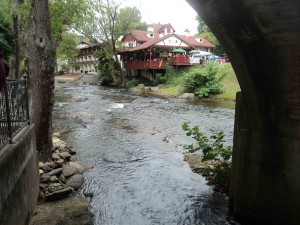 Inside, we enjoyed traditional German food. I ordered a meal of bratwurst, potatoes, rye bread, sauerkraut, and red cabbage. My favorite things on the plate were the red cabbage and the buttered potatoes. The bratwurst was a little bland, so I tried it with both spicy mustard and worcestershire sauce, which had already been placed in front of us. I can't remember the last time that I ordered "German" food, so I enjoyed this unique experience.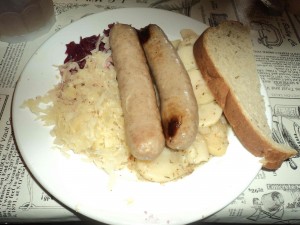 As we walked around, I took in the sights. I spotted two wooden wedding chapels–across the street from each other–and I thought about the reasons why couples would want to get married here. It was pretty obvious: Helen was a beautiful and unique location, it was not far from Atlanta, and there were plenty of hotels around.
As people walked along the cobblestone streets, many of them were dressed in traditional German clothing and green hats. Quite a few of them were carrying plastic souvenir mugs, and they drank out of them as they walked by. (In addition to the German food, Oktoberfest is known for its beer.)
I was looking forward to hearing live German music, but I couldn't find any bands that were playing it. As we walked through this Bavarian-style town, it seemed a little out of place to hear the musicians singing beach tunes, the cover songs that one might hear in the Florida Keys.
We walked down Helen's main street and checked out the shops at a leisurely pace. After stopping by a cozy bakery, Tony and I decided to share a piece of Black Forest cake. It wasn't practical to go inside all of Helen's two hundred shops, but we got to sample fudge in a candy store, and I bought a colorful magnet from a gift shop. (I have a magnet collection on our refrigerator, and when I look at it, I'm reminded of some of my happiest adventures.)
This Oktoberfest celebration would definitely make it into my collection of happy memories. Helen's streets were so charming and the backdrop so picturesque, I couldn't help but feel as though I had entered into a fairy tale. I had enjoyed the German food, especially the red cabbage, potatoes, and Black Forest cake. I had walked past interesting shops and lighthearted crowds. And, best of all, I had been able to share these unforgettable moments with friends.