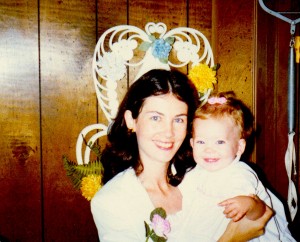 Happy Mother's Day to my wonderful mother and to all of the women who have given love and support to the children in their lives!
The photo above, taken with my mom, is one of my favorite photos from childhood. I was really thankful that I could talk to her this afternoon. (She's living in Russia, and we're eight hours apart!) My mom is a very loving, encouraging, generous woman, and I'm blessed to call her my mother.
I'm dedicating the following poem to her. It was written by Sophie Jewett, a nineteenth century American poet who lost her mother at the age of seven. In this poem, she describes the mother-child relationship, symbolically illustrating the love that many mothers have for their children.
To a Child
The leaves talked in the twilight, dear;
Hearken the tale they told:
How in some far-off place and year,
Before the world grew old,
I was a dreaming forest tree,
You were a wild, sweet bird
Who sheltered at the heart of me
Because the north wind stirred;
How, when the chiding gale was still,
When peace fell soft on fear,
You stayed one golden hour to fill
My dream with singing, dear.
To-night the self-same songs are sung
The first green forest heard;
My heart and the gray world grow young—
To shelter you, my bird.