To tell you the truth, it still feels a little surreal when I remind myself that I was just in New York City for the ball drop. It was, by far, one of the most exciting nights of my life!
I wrote about how much I looked forward to this night in my last blog post.
We made it to Times Square around 7 pm on New Year's Eve. There were quite a few blockades surrounding Times Square, and in order to get through them, we had to show our party tickets to several cops.
I was worried that we'd have to fight our way through crowds, but the areas of the blockades that we went through were actually pretty empty. I guess most people were already on the other side.
Once we got to Times Square, I started looking around, trying to get a glimpse of the famous ball, assuming that it must be nearby.
I was really disappointed when I couldn't spot it, thinking that we'd come all this way and that we probably wouldn't get a view of it at all. (We were separated from the largest part of the crowd by one last blockade.)
It wasn't long, though, before someone on the street told us where to look up. It turned out that we were right in front of the ball. It was just a lot smaller than I had expected it to be! (Doesn't it seem much bigger on television?)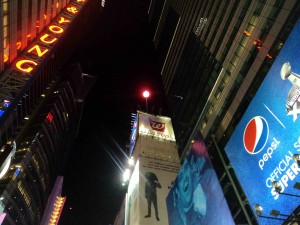 The ball is, in fact, only twelve feet in diameter. It reminded me of a kaleidoscope, because there were illuminated colors and patterns on it, and those colors and patterns kept changing.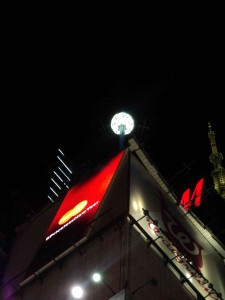 For most of the evening, we were indoors. (Thankfully!) Even though seeing the ball drop was one of my top Bucket List dreams, I wanted to find a way to do it as comfortably as possible.
Many people decide to wear adult diapers to Times Square on New Year's Eve, because it's their only bathroom option once they've claimed their spots in the crowd. And in order to even claim a spot, you can bet on standing in the freezing cold for at least nine hours!
All of my friends and family in New York City tried to discourage me from even going. None of them had actually seen the ball drop live, but they knew of people who had done it and who had said that it was a "miserable" experience. (I was really surprised to find out that, in general, New Yorkers don't even have the ambition to go see the live ball drop once.)
While I wasn't going to be persuaded to give up my Bucket List dream, I was determined to do it in an enjoyable way. So I searched for "Times Square New Year's Eve parties" online. Many of them were in the Times Square vicinity but were on side streets that didn't have a view of the ball. Other parties were easily $500-1,000 per person. Finally, I found the Ruby Tuesday party, which was $145 per ticket and was located right by the ball. I really liked the idea of spending most of the evening indoors, where it was warm and there was a bathroom–and where we could get free food and drinks the entire evening.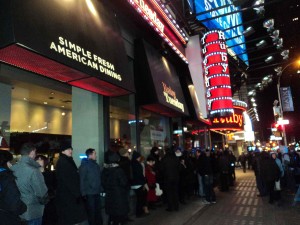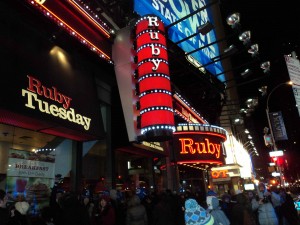 While we waited to get into the Ruby Tuesday party, we met an awesome Canadian couple. The man had surprised his wife with tickets to NYC for Christmas, knowing that her top Bucket List dream was to see the ball drop for New Year's Eve. It was great to meet someone who was as thrilled to be there as I was, and we enjoyed hanging out with this fun thirty-something couple the rest of the evening.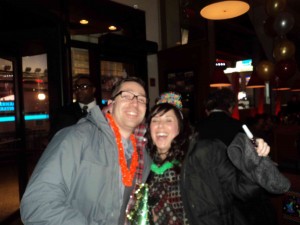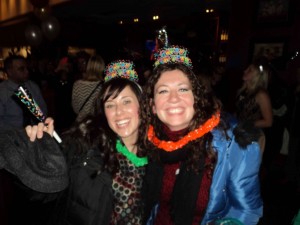 Around 11:40 pm, we decided to head outside. Then a few minutes before midnight, we walked to our designated ball-viewing area in the middle of the street.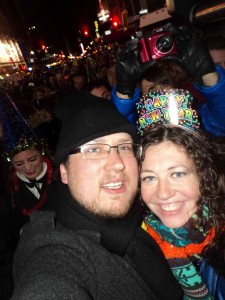 We watched as the ball slowly descended, and at midnight, a beautiful firework show erupted in the sky.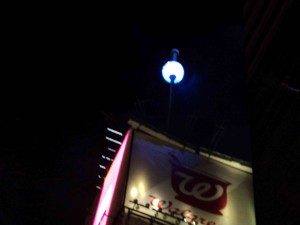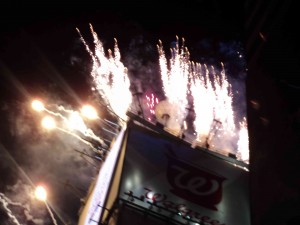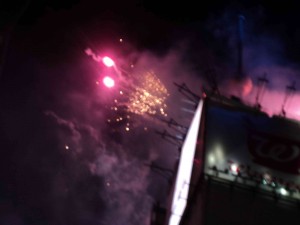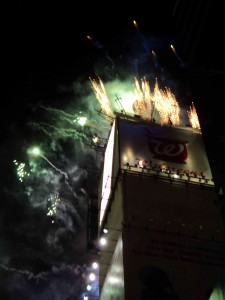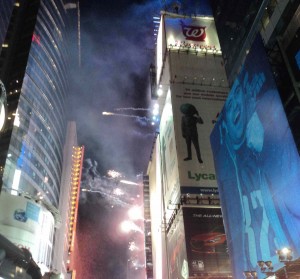 It was an incredible, once-in-a-lifetime moment!
And if the ball drop in New York City is one of your Bucket List dreams, I really hope that you can make it!