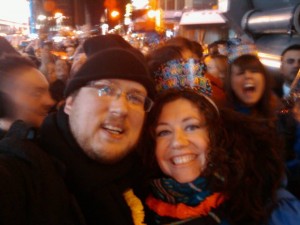 For years, one of the top things on my Bucket List has been to spend New Year's Eve in Times Square. I've wanted to be a part of that lively celebration, that excitement, that final event of the year. . . just once.
I told myself that it might never be practical. After all, an experience like that would cost money. It would also require a great of patience to stand in the cold weather for hours, surrounded by an unpredictable crowd. But this was my dream, so I was willing to sacrifice comfort–and put aside my spending money–to make it happen.
About a year ago, I decided to just go for it, to see if I could make this trip work. I knew that it would probably be much harder to make it work in the future (once we had kids), so this year seemed like one of the best times to go. I love planning trips, and I'm a serious bargain hunter, so I started doing research months in advance.
I realized that to do this trip, we would have to do everything as cheaply as possible. Fortunately, we had some frequent flier miles saved up, so after deciding to go to Michigan for Christmas, I began looking for ways to use those miles to get from Michigan to New York City. It's hard to find flights that can be exchanged for miles, but thankfully, I was able to find us (almost free) flights from Chicago to NYC on December 30.
I also looked for a cheap place to stay near Times Square. That wasn't easy, either. Even the cheap hotels easily ran $300 a night. Thankfully, there was one last private room available at the Vanderbilt YMCA. Staying at a hostel is not something that we do regularly, but I actually found it kind of fun to share bathrooms with young women from around the world. I got ready for New Year's Eve next to two Australian girls, and as we put on makeup in the bathroom, we talked about how exciting it was to be in New York City for this big event. Sharing in their joy made me look forward to the rest of the night even more.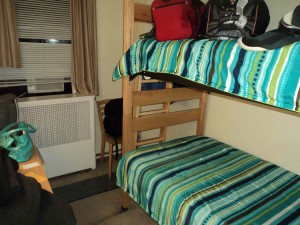 To read about the rest of our night, see Part II.